September 2022: Blueberry Wins Innovation Award for Business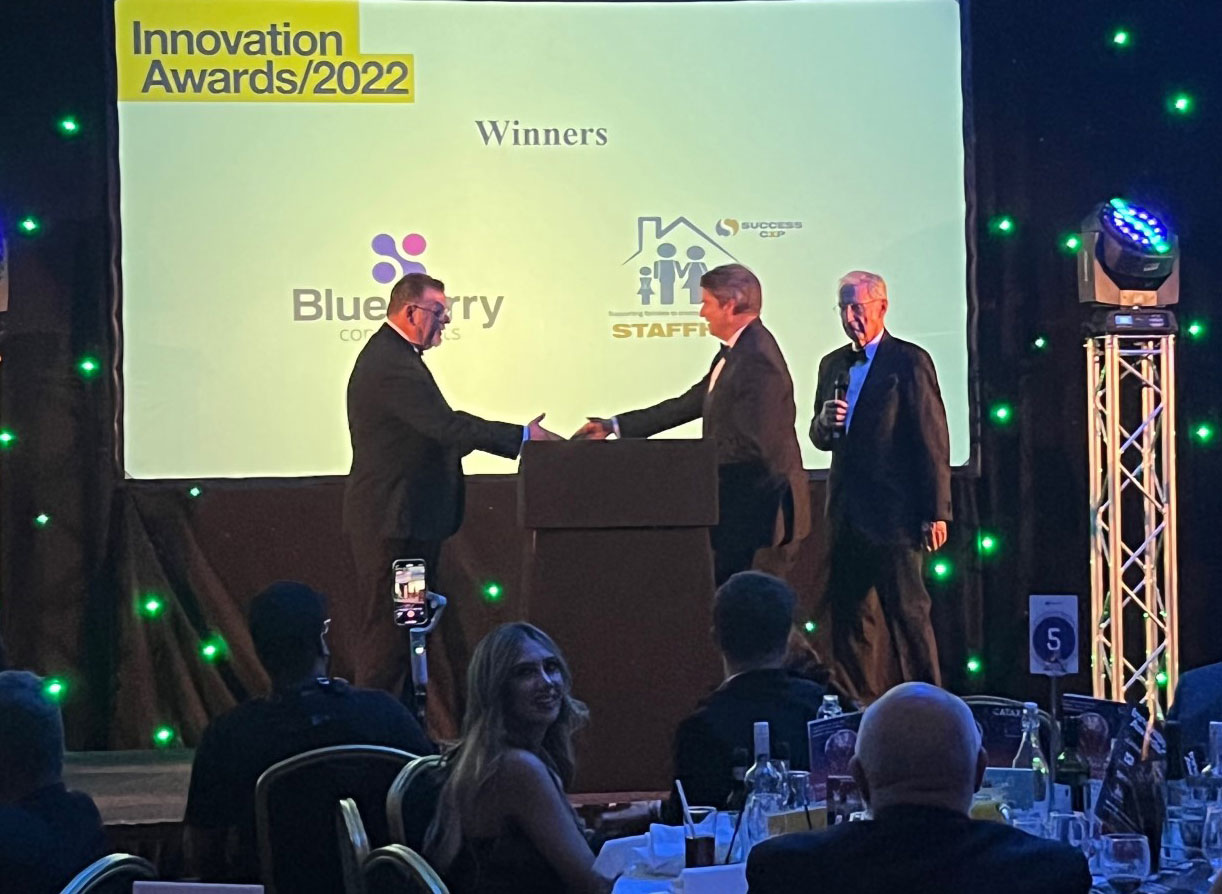 Blueberry has won the Innovation Thought Leader Award for Business, which was presented to Blueberry CEO, Martin Green, at the 2022 Innovation Awards Ceremony, held on Friday 16th September at Edgbaston Cricket Ground.
The Innovation Awards were organised by the Technology Supply Chain and are designed to recognise, celebrate and reward the businesses, organisations and individuals who are dedicated to innovation.
Finalists for the Awards were assessed by an independent judging panel, consisting of industry experts from universities, companies, and key organisations, such as the Institute of Directors.
"Innovation is vital to the success of businesses and the prosperity of the UK. These awards recognise those who have developed new products, new services, or new internal processes," said the TSC about its awards.
Blueberry won the award based on its internal processes, it's dedication to furthering technology excellence and its development of its Rewind product, a one-click session replay tool which is designed to detect and report software issues.
January 2021: Blueberry Systems named a top B2B firm in the UK by Clutch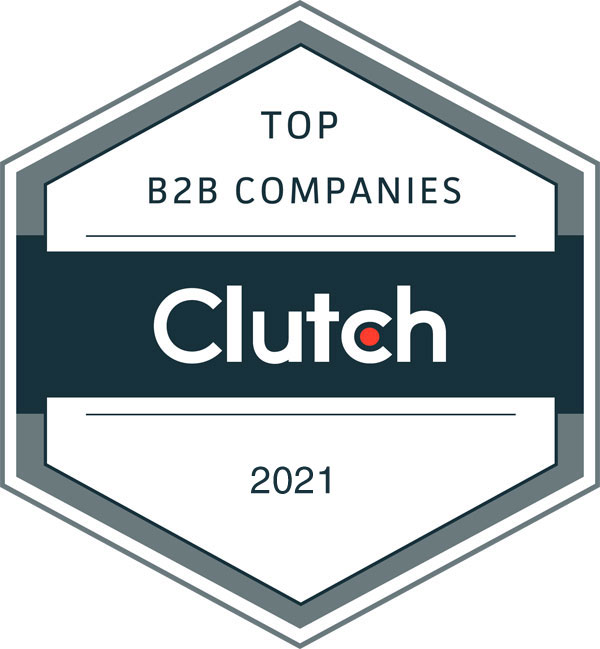 Clutch has released their list of the top-performing service providers in the United Kingdom for their 2021 cycle. The Leader Award winners represent the best in their respective fields, and Blueberry Systems has been named a top UK B2B firm in its Development & IT Services category.
A 2020 report found that tech sector growth in the UK is outpacing both China and the United States. The UK tech industry saw a 44% growth in venture capital investment in 2019.
In order to select the highest-ranking B2B companies, Clutch utilises a rigorous selection methodology. Their team looks into a company's past work, online presence, brand reputation, and reviews on Clutch.

"These Leader Award winners from the UK represent the best of the best," said Clutch Customer Operations Representative, Austin Ellis. "We are continuously impressed by the tenacity, attention to detail, and drive displayed by these service providers."
January 2021: Clutch Newsflash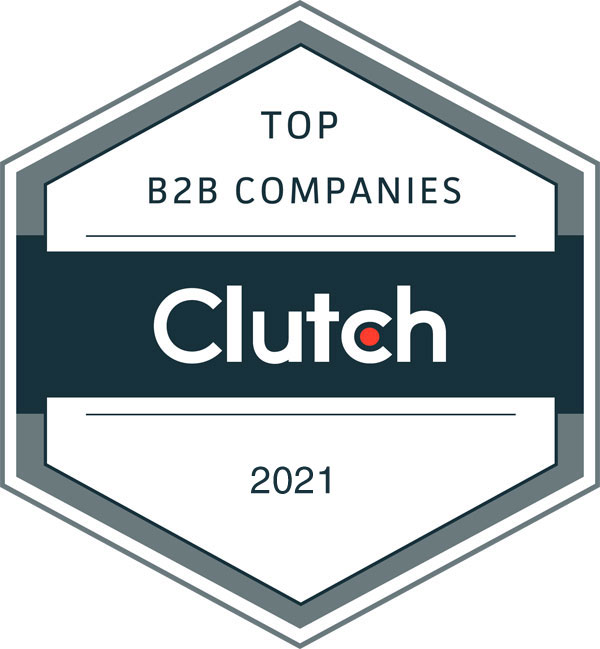 Blueberry Systems will be named one of Britain's Top B2B Firms in an official announcement from Clutch on January 26th. More on this award shortly!
February 2020: Blueberry Systems Earns First Review on Clutch!
Software development is the future of businesses. However, it can also be a tricky sector to navigate without the proper expertise, skills, and processes.
That's where Blueberry Systems comes in. Here at Blueberry Systems, we understand the need for software development for company success. We work with the client to make sure that the project and the final results align with the business objectives because our priority is always the client.
It always pleases us to see our work being reciprocated with kind words from our clients. Recently on Clutch, one of our former clients left our first review on our profile.
Clutch is a DC-based B2B platform that connects businesses with solution providers for their project needs.
Our client, Gray and Adams Ltd, a bespoke vehicles manufacturer, gave us our first review on the platform. They requested our assistance in creating a central platform to make the sales process digital and efficient. We made sure to streamline modes of communication so that there was transparency between the client's vision and our work process. The client is always our priority, and we ensured their insight was applicable at every step of the project.
"They designed, developed and configured a new Web Application to streamline the business process from Inquiry to Production starting. The process started with a site visit to gain an understanding of our business and the current processes that were in place. They then provided screen mockups to ensure they had captured all our requirements. They then started with weekly sprints so we were aware of how the app was progressing and allowed testing as it was being developed." – IT Manager, Gray and Adams Ltd.
Software development can be hard to work around, but it doesn't have to be with us by your side. If you are interested in learning more about our work, please contact us!
May 2018: General Data Protection Regulation (GDPR)
Blueberry is committed to GDPR compliance. We are also committed to helping our clients comply with the GDPR by providing stringent privacy and security protections that are built into our service and contracts.
Our custom software will allow your organisation to fulfil its regulatory requirements of the European Union's General Data Protection Regulation (GDPR). All features required to fulfil the regulatory requirements will be built into the software used for handling Personally Identifiable Information (PII) in the scope of the GDPR.
July 2017: Software Development Assistant Project Manager
We are looking for candidates who can show a personal and general interest in the IT industry. With a proven track record of being able to work independently and on their own initiative with a high standard of written communication and a methodological problem solving skills. More details on our Careers page.
July 2016: New Assistant Project Manager
Lisa Kent has joined Blueberry Systems as an Assistant Project Manager.

Lisa moved from another software company where she worked with developers based in Romania for almost two years.

She said: "I was the only person in the UK office so I am really enjoying working in a team!"

We wish her well as part of the Blueberry team.
July 2016: Blueberry Launches Technical Blog Series
Blueberry has launched a new weekly series of technical blogs that aim to provide in-depth discussion and insight into the world of bespoke programming.
The blogs include both general interest stories that cover business in an IT-connected world; humourous tales about the intricasies and dilemmas facing software developers, tricks and tips for coders, to the big issues affecting everyone that loves and uses software.
The blog posts are split into two main areas – general interest and a series on 'How Blueberry Solves' that explain how Blueberry approaches the software design process to solve the unique challenges found only in bespoke developments.
You can find Blueberry Consultants' custom software blogs here.
July 2016: New Junior Developer
Twenty two year old Andrew Delaney is a placement student from Aston University, studying Computing Science, who has joined Blueberry for 12 months as a junior developer.

Andrew said: "I've been programming for about 5 years, starting out as self-taught before going to University.

"My main interests are Technology, Science and Politics, and I'm part of the Youth Leadership Group for Citizens UK Birmingham, which is a community organising group that deals with social justice issues.

"I'm also the president of the Tabletop Gaming Society at Aston University."

Welcome to the Blueberry team, Andrew!
June 2016: Free Assistive Technology App For People Living With Dementia
Blueberry has developed a free assistive technology application (app) for tablet computers that makes life easier for people living with dementia.

Called 'Remind', the app allows carers who live away from a person with dementia (or other memory loss conditions) to send automated prompts to a tablet located in the person's home.

The carer simply types messages they want to display to the patient on the message screen from their account using any computer, tablet or mobile device.

There is a choice to send the message prompts immediately, or schedule them for certain times of the day, as well as set up recurring messages.

Anyone can freely use Remind simply by setting up a user account via the app's website at http://www.remind-app.co.uk. There is no charge for using Remind.
June 2016: New Assistant Project Manager
Corey White has joined Blueberry as an Assistant Project Manager.

Corey was born in a small town, called Rinteln, in Germany, but has lived in Kent in the UK for the past 17 years. He moved to Cheltenham in 2014, at the start of his university education.

Outside of work, Corey enjoys socialising and sports such as rugby, cricket and golf. He also likes travelling to France for a few days of fishing whenever he can, as well as travelling further afield to different parts of the world (especially when he can fit in a day or two of fishing!)
February 2016: New Addition to Technical Support Team
Broderick Gough has joined Blueberry Systems as part of the technical support and customer services team based at the Cheltenham office.

Broderick recently relocated to Cheltenham after spending 2 years working in his home town of Ipswich for Suffolk County Council as an IT Support Engineer where he provided IT support to the County Councillors and Directors.

Prior to that Broderick graduated from Sheffield Hallam University with a degree in Forensic and Security technologies.
December 2015: Assistant Project Manager Joins Blueberry
Sam Poole has joined Blueberry Systems as an Assistant Project Manager, having previously worked as a Finance Analyst for Kohler Mira.

In his spare time, Sam takes a keen interest in horse racing since he lives in such close proximity to Cheltenham Racecourse, and is keen travelling, with plans to visit as many countries as possible.
September 2015: Blueberry Systems Launches New Website
Blueberry Systems, the Cheltenham-based sister company of Blueberry Consultants has launched its new company website. Blueberry Systems was launched in 2013 with a focus on commercial projects for larger companies.

Since being set up as a limited company, Blueberry Systems has established itself as a leading bespoke software house, with a strong track record of technical and commercial experience across a range of industries, having successfully reduced costs and improved the efficiency of a number of major businesses.

The company skill-set includes the development of business applications, software integration across devices, Web and desktop development, updating legacy software, cloud solutions and software support.
June 2015: Blueberry Group Annual Conference
Blueberry Group has held its 2015 annual company conference at its headquarters in Birmingham.
The event provided insight into a number of new technologies and products that are to be launched this year, as well as an opportunity for a photoshoot of HQ staff, which will be utilised in brand new websites currently being designed for Blueberry Software and Blueberry Systems.
Blueberry Group is a privately held group of small technology companies with activities in consultancy, retail software products and online software products. Blueberry has been creating award-winning software for some of the world's most demanding clients since 1997.
May 2015: New Project Manager Joins Blueberry
Andrew Oakley has joined Blueberry as a new Project Manager. Prieviously, Andrew was Head of Software at the Higher Education Statistics Agency for six years, the body which compiles university league table data and assists government departments with HE planning. Before that, Andrew was Head of Anti Spam at Symantec MessageLabs and also ran his own small software consultancy. Andrew lives near Tewkesbury with his wife and three children, and runs Cotswold Raspberry Jam (cotswoldjam.org), family-friendly Raspberry Pi computing events with coding tutorials for children, and he's also created children's wearable electronics projects with Arduino.
December 2014: Database System Delivered to Mechatherm International
A new database system has been delivered to Mechatherm International Limited to replace the Access database they were previously using to manage their projects.
Based in the West Midlands, Mechatherm has been designing and supplying furnace equipment predominantly for the aluminium industry since its formation in 1973. Each bespoke installation requires a complex list of parts to be manufactured and procured.
The new Blueberry system, built using Blueberry's web template technology, BBWT, is expected to be a quantum leap forward for Mechatherm.
The project has been delivered in a timescale that the customer is very pleased with, and they are now planning a number of additional projects for Blueberry.
July 2014: New Staff Join Blueberry
Charmaine Dixey has joined Blueberry as a Project Manager. Charmaine has a Business IT degree and has previously worked for a software company as a trainer and project manager, with expertise in management database systems to control business processes. She will be based at the Blueberry Systems office in Cheltenham.
In her spare time, Charmaine likes to dance Ceroc (modern jive – think Strictly Come Dancing ) and has climbed some of the highest mountains, including Everest, Ben Nevis and Snowdon.
August 2013: Blueberry Expands With Blueberry Systems
Blueberry is continuing to grow year-on-year. To be able to service the strong on-going stream of project enquiries alongside our existing customer projects, we have, over the last year, recruited four additional full time project managers and also significantly increased our software development team. Now, we are announcing a brand new division of the company, called Blueberry Systems, which will focus on commercial bespoke software projects.

Blueberry Systems, based in Cheltenham, will be run in the same way as Blueberry Consultants, with Martin Green still as the overall director and owner, but Commercial Manager, David Lee, will run it day to day in his new role as Managing Director (Systems).
David said: "This is a logical way forward for Blueberry so that we can look after the growing customer base without losing what is great about Blueberry – the personal touch, technical excellence and attention to detail. Martin and I felt strongly that we don't want to create layers of management and bureaucracy, so we felt that by creating a new division we can maximise the growth potential without losing that special "Blueberryness" that we know our customers value".

As part of setting up Blueberry Systems, some head office staff have transferred over to the new division, so as to retain continuity of work and business relationships. All three divisions of Blueberry – Consultants, Systems and Software – share management and administrative resources and our growing team of software developers. There is a common infrastructure in place so that whichever Blueberry team you work with, you will find the same high level of service and technical expertise.
Contact us by phone, email or enquiry form.
24, Kestrel Court,
Waterwells Dr,
Quedgeley,
Gloucester GL2 2AT
UK