Agile and Visible: Working in Partnership
With years of software development project experience behind us, project management at Blueberry has become a fine art! We call it Bluesprints. This is the way we work with you to build your software to high quality, with requirements traceability, delivering what we say we will on time and making sure your understanding is always the same as ours.
Bluesprints is an Agile approach with tight but light-touch project controls that work in both a fixed price/fixed requirement project as well as where a more creative, evolving style of development is required, such as with an entrepreneurial software product.
The start of any software project is crucial for setting the baseline, tone and style of the project. At the Project Kick-Off Meeting we work to build the Project Start-up Document which defines the project roles and the preferred methods of communication, sets up access to our systems and establishes an understanding of how Bluesprints will support the project.
Getting it Right from the Start
Investing time in exploring requirements at the start of a project will pay dividends in terms of saving time and preventing misunderstanding and re-work later. Our Bluesprints Discovery Phase builds up a Requirements Catalogue through workshops and then online discussion, resulting in sign-off of requirements when you are confident they fully meet what the business needs. These are not set in stone however and there is still scope for the requirement to evolve as the project progresses.
Once the requirements and design are agreed, we commence a series of development Sprints. Each Sprint is typically between 5 and 15 days in length and is planned to use our unique Trello-like Sprint Planner. The development Tasks that make up the contents of the Sprint are agreed with you, and we build in 20% contingency. With each Task re-estimated daily, the Sprint is under close control so that it finishes on or ahead of time. The progress is tracked with a Burndown Chart showing, at a glance, whether the Sprint is ahead of or behind target. If it's behind, action can be taken to bring it back on time. The Burndown Chart is shared with you through our Portal (and also e-mailed to you twice per week) so you are fully aware of the state of progress.
Overall, the key is visibility of progress. Through our Portal you can see the progress of current Sprints, any issues that require your comment and items for you to test. We send you two progress reports per week by e-mail and you can see your software evolve by logging into a test site on a cloud server.
Bluesprints addresses the traditional shortcomings and difficulties of managing software development projects:
"What you have delivered is not want I wanted!"

Bluesprints, we have a Discovery Phase where we work closely with you on the requirements. We also insist that the role of "Product Owner" is held by our customer's subject matter expert. The Product Owner has sole responsibility for the requirements and is the only person who can sign off both requirements and design as correct and complete.

"The project has over-run and I don't know why!"
Bluesprints development is divided into a series of "Sprints" of fixed duration – typically between 5 and 15 days each. Each Sprint contains a number of development tasks which have been estimated to fit with the available Sprint timescale and available resource, allowing for 20% contingency. Every day, the tasks are re-estimated and a "Burndown Chart" created that shows to both us and the customer at a glance whether the sprint is on target or not. The result of this close attention is that 95% of Sprints complete within their timescale. And if it doesn't, the reasons are clear.
"I don't know where we are with this project!"

We provide access to the current project status through a Portal to our project management system. There, at any time, you can see the progress of the current development Sprint as a Burndown Chart and the issues requiring your attention.

We also provide two progress reports per week by e-mail, in addition to any other day-to-day communications. Your view of the project is the same as ours.

"Every time I get a new software release, something has broken!"
"Regression" bugs in software are always a danger when live software is upgraded. To reduce the risk to an acceptable level, a strong testing regime is needed. We test software releases and then hand over to you to test as well. We also use a staging environment to check a live release prior to "go live".
"Senior management are concerned about the cost and delays of this project!"
As well as tightly managing cost and time, we establish the roles of Commercial Owner on your side and ours. This role should be held by someone with executive responsibility for the project budget. We set up a call schedule at the start of the project so that the Commercial Owners speak (or meet) at least every six weeks and this provides a forum for a general progress update and any concerns there may be to be aired.
Blueberry Sprint Planner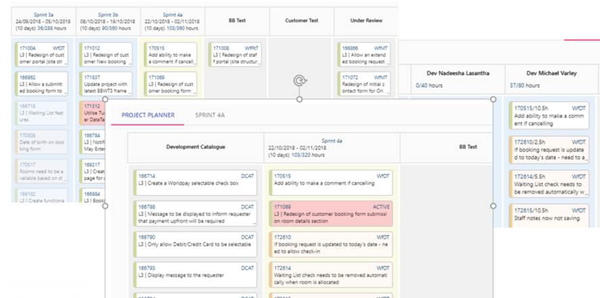 Customer Portal showing a Burndown chart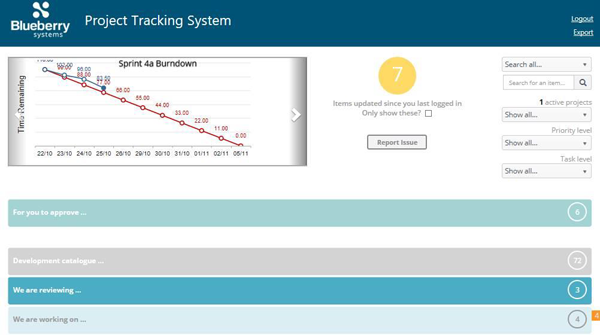 Contact us by phone, email or enquiry form.
24, Kestrel Court,
Waterwells Dr,
Quedgeley,
Gloucester GL2 2AT
UK